Publisher (author)
Au Bonheur du Lac - Chambres d'hôtes - 910, route du Lac - F-74140 EXCENEVEX PLAGE
Téléphone portable: +33 (0)6 76 35 25 53
Téléphone fixe: +33 (0)4 50 94 27 16
Email: info@aubonheurdulac.com
Siret: 813 874 286 00012
Tourist accomodation: Mrs Nathalie Sefiji-Favre
Publishing websites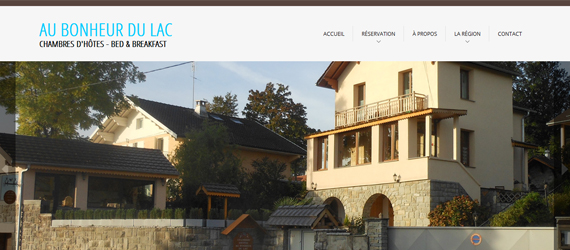 Liability note
The website http://www.aubonheurdulac.com provides references and links to other Internet sites.
Access to these sites and their use is at the user's risk. The editor / author expressly states that it has no influence on the form and content of the sites to which it returns. The information provided by these sites are entirely the responsibility of their authors.
The content of this website is treated with the utmost care and protected by copyright. Downloading and printing of part or all of the texts are accepted principle. These operations, however, entail any transfer of rights to the content. Any reproduction, use or modification for public or commercial content protected by copyright is prohibited without the permission of the copyright holder.
The author / editor does its best to respect in all publications copyrights of the images, sounds, video sequences and texts. The mere mentioning does not conclude that the content is not protected by third party rights. The copyright for published objects created personally by the author / editor of pages remains exclusively with it.